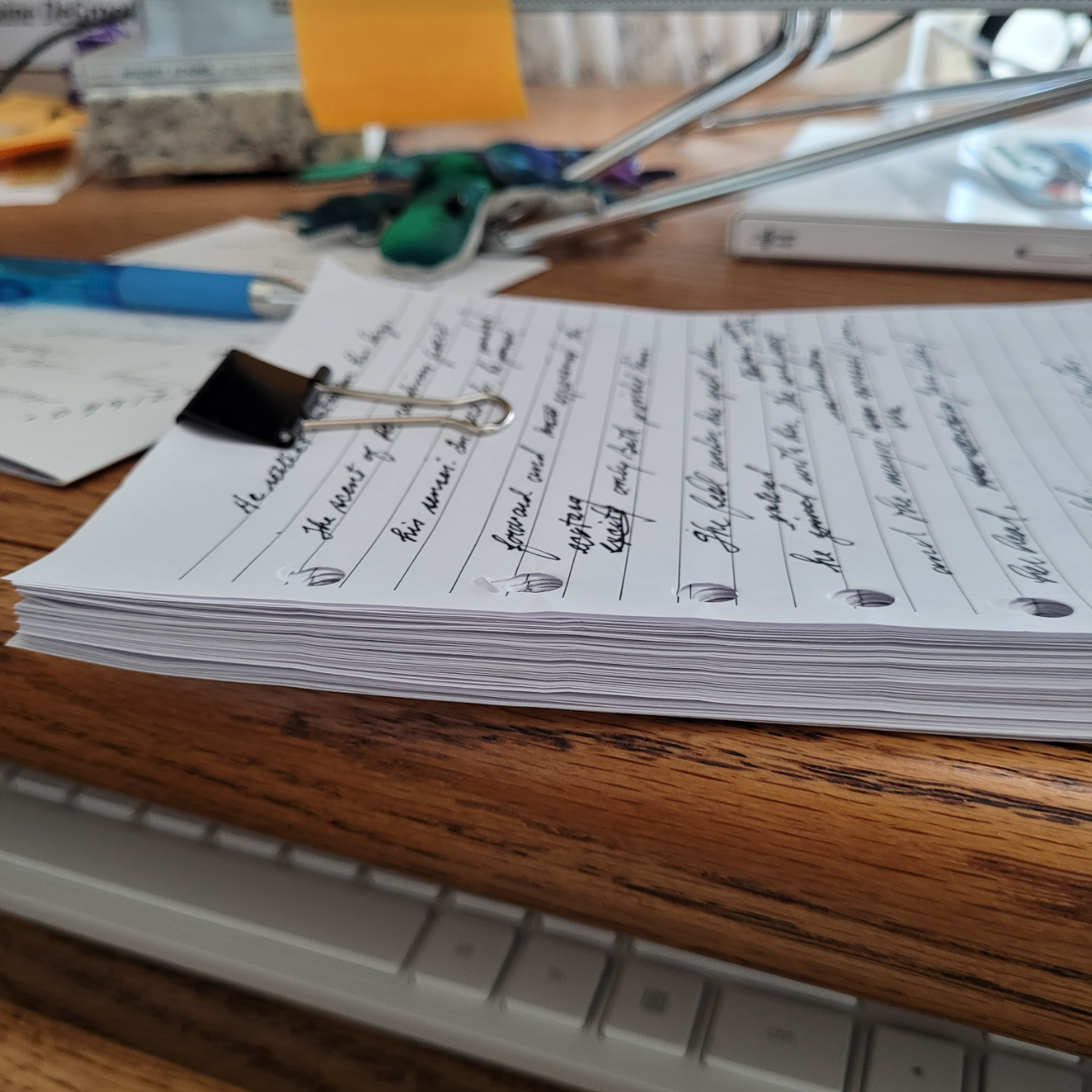 October 15, 2023
I reached THE END on Playground Antics!! As I typed in my handwritten portions, I found two scenes hadn't concluded well…the action just hung out there unfinished. I added action to both and am satisfied with the result. Now, on to editing.
My first step is using the Read Aloud feature in Word to help with things like word flow, stilted dialogue, and repeated words too close to each other (unless there's a reason for the repetition). While listening, I set the view to 200% to track down punctuation issues such as commas instead of periods and missing quotation marks.
After all of this, I'll work in AutoCrit, the editing platform I use. Somewhere during the AutoCrit phase, I usually print the story and ask a friend to read it and let me know what she thinks. She's read all of my stories before I submitted them.
My plan is to submit Playground Antics to my publisher in November. But before that I must write a synopsis and a blurb. Check out my September Blog post for a discussion of these "fun" tasks. And I can't forget to decide on the photos as options for the cover…just in case!
November is the National Novel Writing Month, fondly referred to as NaNoWriMo or even a shorter version as NaNo. The goal is to write a 50,000-word novel in 30 days. I tried it once. Failed miserably. Plus, I didn't care for some aspects of it. It seemed more like a fund raiser. (I think it's run by a non-profit, so there you go.) My failure ended in ultimate success as the effort became my novella, Accidental Attraction.
This month AutoCrit is featuring a Pre-Writing Palooza! Its purpose is to help those planning to participate in NaNo prepare their writing. I'm using the sessions to delve into the current story I'm working on. It's based on my 4th of July story idea from my 17 February Blog post on Story Ideas. The story involves a fireman and a she-shed that burns down! I've written the first assignment which focused on the main character. There are no winners or losers in this. They'll review some and make comments to help us. Ought to be interesting. I'm enjoying the story so far and already have ideas for future scenes.
I should be hearing about the results soon of the Firebird Book Awards mentioned in my last newsletter. I'll let you know how Sparks Fly fared when I learn of the results.
That's all for now.
Read on!!
Elaine